Alasdair Gray retrospective opens at Kelvingrove
October 10 2014
A retrosopective dedicated to the work of author and artist Alasdair Gray opens at Glasgow's Kelvingrove Art Gallery & Museum tomorrow, showcasing over 100 paintings and murals.
Amongst those on view are a night street self-portrait from 1953, an early cityscape work which can be seen as a precursor to his most famous piece, Cowcaddens Streetscape in the Fifties. This depicts a sliding viewpoint from Port Dundas to the north to St Aloysius Church to the south.
Gray commented: "In 1945 my mum took me by tram to Kelvingrove, she had read in the paper that Miss Jean Irwin held an art class on Saturday mornings. Children in it were supposed to be recommended by teachers, but my mum was an independent woman. Mum showed my scribbles to Miss Irwin, who let me join her class. For the next five years Saturday mornings were my happiest times. Like every teacher whose help I appreciated she gave me materials and let me do what I liked with them.
"The art class children were allowed in about an hour before the public, I was always first and took the most roundabout way to the painting place. I have no words to describe the delight I felt at the wonders I witnessed in Kelvingrove. Now my work is on display here, I'm touched, it seems right given my passion for painting was cultivated at Kelvingrove. In truth I didn't expect to have this exhibition before I died"
Curated by Sorcha Dallas the exhibition is the most comprehensive show of the artist's work to date.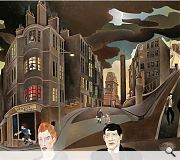 Cowcaddens Streetscape in the Fifties is Gray's most famous painting
Back to October 2014