HLF turn down Egyptian Halls grant application
October 9 2014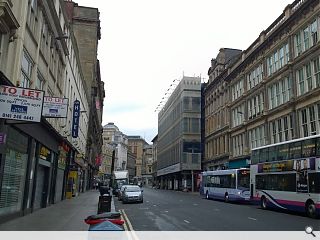 The Heritage Lottery Fund has turned down the latest request for grant funding from the Egyptian Halls Building Preservation Trust to restore the
eponymous Alexander Thomson designed warehouse
on Glasgow's Union Street, citing ongoing 'risks' in its reasons for denying the funding sought.
Undeterred the Trust is set to make a second bid for the cash within the next six months.
Cpmmenting on the decision Martyn Roe of EHBPT said: "The HLF gave us a very good hearing and the objective is to de-risk the project and reapply within six months, the fact the HLF recognises the architectural renown and economic growth potential that can be delivered provides a platform to build a second application, which reconciles the risks identified. Fundamental to achieving this is effective collaboration between the buildings owners and GCC-Historic Scotland and the Scottish Government"
Said EHBPT's Derek Souter "What is not in doubt is GCC, Historic Scotland, Scottish Government, HLF, DBS USP, USI, every Heritage body in the world and the 7000+ citizens who signed the petition all want to see the Egyptian Halls preserved and returned to sustainable commercial sustainability and kick start the long overdue regeneration of Union Street as well. The challenge still is how to unlock the funding sources to achieve this. A final push over the next 6 months could see this come to fruition?"
A petition to save the Alexander Thomson designed warehouse drew over 7,000 signatories when the developer warned it may have to knock the building down if public money to finance restoration could not be obtained.
Back to October 2014