The Prince's Foundation unveil Dumfries House show homes
September 24 2014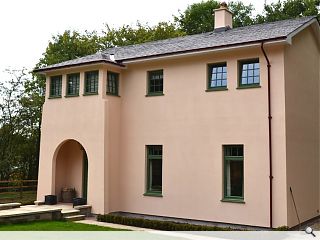 The Prince's Foundation has pulled the wraps off three new show homes designed to embody durability, sustainability and Britishness at Dumfries House, East Ayrshire.
The development incorporates a cottage, farmhouse and Baillie-Scott design, each of which is intended to prove that traditional house types remain suitable for contemporary living.
Incorporating Welsh slate roofs, in a nod to local vernacular, alongside modern vents and vent adapters the development has been commissioned to provide accommodation for employees of the Dumfries House Trust.
The cottage is a three-bedroom family home inspired by Scotland's rural areas and sits beside two large oak trees. For its part the Baillie-Scott occupies its own woodland clearing and is inspired by the architect Mackay Hugh Baillie-Scott. The vernacular farmhouse design meanwhile marks the entrance to Morrisons Farm – a joint venture with the eponymous supermarket.
Each home avoids use of eco technologies by combining traditional methods with modern passive technologies with insulation provided by use of clay, wood, lime and sheep's wool.
In a statement the Prince's Foundation said: "The Welsh Slate used on the Prince's Houses reflects our commitment to the use of lasting, sustainable British materials that not only add to the beauty of the home but also help reduce our impact on the environment.
"Welsh Slate has been used for centuries and is a very sustainable building product due to its low embodied energy. Through the use of this material we are also furthering our commitment to keeping traditional skills alive. The use of slate also means that the designs are sympathetic to the local Scottish vernacular."
The Prince of Wales saved Dumfries House for the nation in 2007 when the monarch stepped in to prevent the home and its contents being auctioned off. The next in line to the throne also backed the nearby
Knockroon housing development
.
Back to September 2014