UK makes a beeline for Milan Expo
September 25 2014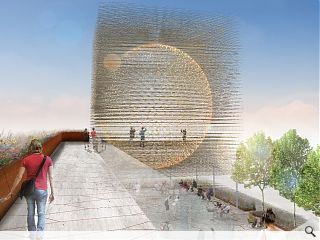 Designs for the UK pavilion at next year's Milan Expo have been unveiled by Wolfgang Buttress, with a giant artificial beehive to articulate the theme of Grown in Britain.
Commissioned to showcase the nation to up to 20m visitors from 147 countries the cuboid lattice will be built by Stage One and Rise from aluminium with a spherical void at its heart.
Next year's showcase will explore how the world might go about feeding a projected 9bn mouths by 2050, with Britain focussing on the role of the honeybee in the ecosystem.
The distinctive pavilion will take visitors on a journey from a pathway lined by rejected brick walls snaking through an orchard an orchard to a 40m long meadow and amphitheatre.
From here visitors can ascend to a terrace level in the podium of the central beehive, which will host its own architectural programme, bar and social space.
In a statement the UK Pavilion team said: "The structure is connected to live beehives situated offsite. Audio-visual devices embedded within the structure allow it to pulse, buzz and glow according to signals from a real beehive. Accelerometers measure the vibrational activity of the real bees and these signals are fed into an array of LED lights within the sphere to generate a dynamic, visual representation of the bees' activity."
The Milan Expo will take place from May to October 2015.
Back to September 2014