Ordnance Survey update UK Minecraft map
September 24 2014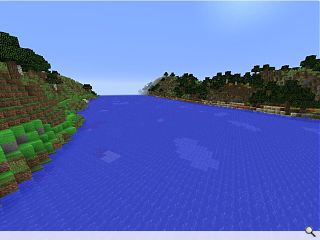 Ordnance Survey have updated their
free Minecraft map of the UK
to create the most detailed recreation of Britain yet seen on the popular game.
GB Minecraft 2 has seen its volume of virtual bricks upped from an impressive 22bn to a heady 83bn, allowing individual streets and houses to be rendered for the first time.
Developed by Ordnance Survey's Joseph Braybrook, who first conceived of the idea whilst working as an intern for the mapping agency, the terrain is built using real-world data.
Braybrook said: "The terrain has been doubled in scale to provide more detail. It uses 1:25 000 scale OS VectorMap District to give a smoother, more expansive appearance that is closer to real life.
"Amongst some of the new features I have added are local roads, and I've done this using our in-house colour classification system, so motorways appear as blue for instance. The water features now appear in sharper detail; too, so you can see individual streams and tributaries coming off rivers. The forests and woodlands are now populated with generated trees, and the national rail network has been added. I'm looking forward to seeing if people eventually build a working railway system in game."
Hundreds of thousands have downloaded the software with teachers making use of it as a geography learning aid.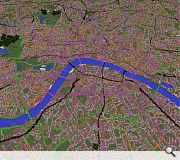 EastEnders fans will be familiar with this aerial view of the capital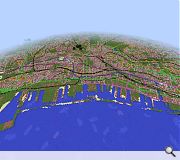 Liverpool's docks have been rendered to a level of one block per 25m
Back to September 2014