Survey shows architects split three to two on independence
September 17 2014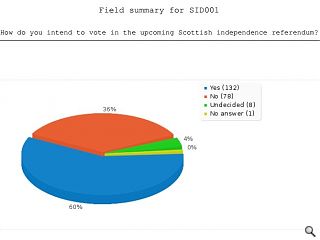 A construction industry poll conducted by Urban Realm has shown a three to two split in favour of independence, with just hours to go until polling stations open for tomorrow's referendum.
A total of 219 people responded to the survey, launched on 27 August, with 132 (60 per cent) declaring that they would vote Yes on polling day and 78 people (36 per cent) choosing No. Just nine people said they were still undecided as time, the oxygen of prevarication, extinguishes.
Amongst those to come out in favour of independence was architect Andrew Bruce who noted: "The ONLY question we are being asked is whether the sovereign nation of Scotland should govern itself and be fully responsible for its own decisions. There's only one answer to that. Everything else will follow and the quality and success of what follows will be up to us all. Do we have the guts, and the ability? I think we do."
This sentiment was echoed by building surveyor John Cartwright who added: "This is an opportunity for Scotland to take control of its own destiny and to ensure we send our resources where they are needed, rather than wasting them on Trident and illegal wars. I also see this as an opportunity for us to create distinctively Scottish solutions for Scottish problems, particularly in relation to the construction industry."
Another architect who will be marking an 'X' in the Yes box tomorrow is Peter Gunning who explained: "An independent Scotland able to control its own resources and make decisions in the best interests of its people. It would be great if an independent Scottish parliament were able to gain consensus on issues such as energy, defence and infrastructure and plan long term in stark contrast to the scared, reactionary, short term politics prevalent in Westminster."
Mirroring the population at large not all respondents were as one however with retired architect B. Joyce speaking out on behalf of the No camp: "Architects think the profession will be better under independence. How so? We will still have to abide by European legislation when it comes to procurement. The independence plans have absolutely no credibility. The truth is (regardless of which way the vote goes) all that has been created is a bitter, divided nation."
Lighting designer Kevan Shaw disagreed with this however: "As an independent nation with full economic powers Scotland has the opportunity to develop into a great nation and serve its inhabitants with a parliament that truly represents the people's will. The opportunities that flow from this are that Scottish architects and designers will no longer be considered as second class to anyone who happens to practice in London or the South East. Opportunities for new development and buildings will be greater and the potential for great public buildings in Scotland will return in time if not immediately."
Martin Baillie, a part 2 architectural assistant, mirrored these sentiments: "The Architectural profession will be enhanced as part of the cultural awakening self-government brings about, coupled with the massive showcasing of Scotland on the world stage that a Yes vote would facilitate, the future of the arts and culture in Scotland is being afforded an irresistible opportunity!"
Architect Neil Stephen observed: "Scotland is a nation so should have the responsibilities of a nation. This way we can shape our own future and build the sort of society we want."
Giving a different perspective from the precarious lower ranks of the profession an anonymous part II architectural assistant, wrote: "If the industry was to be rocked by the inevitable economic disruption that would follow a 'Yes' vote, we would be once again robbed of our futures as architects and assistants working in Scotland, leaving the remainder of us to look elsewhere for work. Unfortunately I know what it feels like to have to visit a Job Centre, to be told that my carefully crafted CV and portfolio needed to be in Times new Roman and on A4 b/w paper, to be asked to explain what I studied for six years, to be asked if I would like to work for free to gain 'experience'."
Architect Stuart Linsey added: "Scotland along with the rest of the UK will continue to decline in world terms as China and perhaps Russia dominate due to their natural and increasingly sophisticated human resources. So called independence will merely add cost and inconvenience to my life and those of my children. In the grand scheme of things nothing can or will be gained by it. The whole exercise is a vanity project for a few aimed at fooling the masses, sadly one which is succeeding with many, and will leave a nation poorer and more divided whatever the outcome."
Paul MacDonald, an Inverness-based architect, also
questioned the basis of the Architects for Yes campaign group
, (who have been successful in mobilising pro-independence architects) by pointing to the inherent difficulty in pinning down Scottishness: "Why would (very able) architects feel the need to campaign specifically as Architects for Independence, rather than lend their support to the principle campaign? The difference in architectural language between the Highlands and the South of Scotland, for example, is stark. It belittles the specific nature of these places to attempt to unite all architecture in Scotland under one banner.
"I believe that independence will do very little to raise the standard of architecture in Scotland. For me the most interesting architecture is architecture – not Scottish Architecture or French Architecture. Surely, the most liberating thing for architects in Scotland is to be freed from the 'Scottish' and take up the (privileged) challenge of being an architect."
Polling experts have declared the actual vote too close to call, ushering in a sleepless night as voters await the results… with a mixture of hope and/or trepidation.
Back to September 2014