Speirs + Major unveil Olympic Park lighting
September 17 2014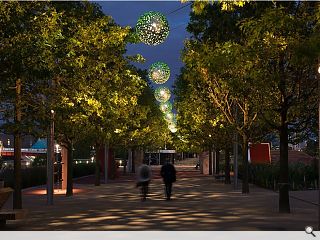 Lighting design practice Speirs + Major has unveiled an immersive installation at the Queen Elizabeth Olympic Park, London, part of a wider lighting master plan for the Olympic Park and former athlete's village.
Overseeing both conceptual ideas for the lighting and specification for routes, open spaces and landscape elements the practice has positioned the scheme as a new heart for the east end.
Encompassing parklands, waterways and play spaces the project is centred on a central promenade connecting the ArcelorMittal Orbit tower with the local canal system. This is marked by a sequence of suspended spheres which shift their hue from blue to green as the walkway extends.
Elsewhere lighting is used more subtly to both enhance security and highlight key landscape elements.
Speirs + Major associate Philip Rose, who was responsible for the day-to-day running of the project said: "Wherever possible it was our intention to reuse lighting equipment used during the Games, including columns, LED street lighting lanterns, HIT spot and floodlight projectors.
"It was important to allow a number of open spaces to remain dark so that the park didn't feel over lit, and that there were areas of calm. Along the promenade the suspended spheres create the 'magic', which is the essence of the scheme."
The work was delivered by Michael Grubb Studio as part of a competition winning team led by James Corner Field Operations and MAKE.
Back to September 2014