Strathclyde University complete revamped engineering hub
August 28 2014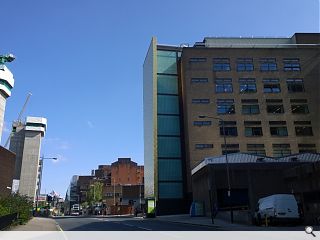 Strathclyde University have completed a revamp of the James Weir Building which has seen the addition of a bling new escape stairwell to tart up the buildings appearance from the fast changing Cathedral Street.
Designed by Honeyman Jack & Robertson the dramatic intervention has seen the liberal application of TECU 'gold' cladding in the form of copper shingles to mask a reglit glazing stair core.
Running to the full height of the eight storey building the addition faces off against the under construction City of Glasgow College, said to be the
largest higher education campus in Europe
.
To keep up with the Jones' Strathclyde is undertaking an extensive estates refurbishment programme, including planned work to the nearby
Stenhouse Building
.
The James Weir building is part of a £35m engineering hub which also houses refugee architecture students
relocated from the former Architecture Building
.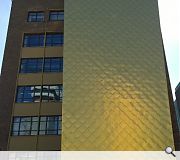 Cathedral Street is being transformed by a wave of investment in the education sector
Strathclyde are conscious that the thoroughfare serves as their shop window
Back to August 2014