Simpson & Brown complete Penicuik House restoration
August 29 2014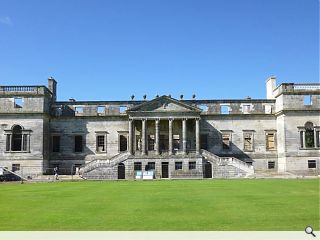 Penicuik House, one of the finest Palladian style buildings in Scotland, has been rescued from ruin following completion of extensive stabilisation works by conservation specialists Simpson & Brown.
Abandoned in 1899 following a devastating fire the home had deteriorated to the point of threatened collapse, prompting the formation of the Penicuik House Preservation Trust who began measures to make the ruin safe and allow public access from 2007.
Since then hundreds of tons of debris have been removed, allowing internal walls to be rebuilt (including one which 'rocked' when pushed against) as necessary and steelwork bracing to provide additional structural stability. These new interventions make use of brick so as to be legible against historic elements.
Important architectural features such as pencheck staircases and an imposing entrance arch have also been preserved whilst bricked up windows have been opened and fitted with metal bars to prevent trespass. Sadly however much of the original flooring had already been removed, necessitating use of gravel to provide level access.
Works to the surrounding Penicuik Estate such as reinstatement of 18th century pathways and repairs to a Roman bridge and a new pair of historically accurate Chinese gates have been commissioned to stand within the grounds.
In their conservation report Simpson & Brown noted: "The completion of the portico and architectural embellishments on the wallheads dramatically enhanced the appearance of the house and for the first time in many years the architectural elevations are virtually complete, restoring an imposing centrepiece to the designed landscape. However, the architectural quality of the elevations lacked the important effect provided by fenestration. With this in mind and bolstered by the success that the work to the portico and wallheads had on the north elevation it was decided to refenestrate the building.
"New unglazed timber sash and case windows have been manufactured exactly matching the surviving windows and these have been fitted into the original window openings."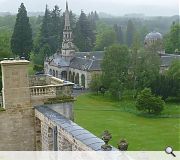 Ornamental urns have been reinstated above the main portico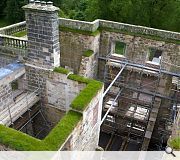 Wallheads have been capped with a turf topping to minimise water ingress
Back to August 2014