ICA join student housing rush with fresh Glasgow plans
August 28 2014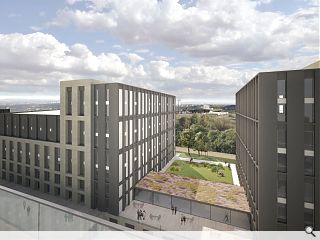 ICA architects have submitted plans for 607 student bedrooms on behalf of Lormor and Land Synergy at Kelvinhaugh Street, Yorkhill, as part of a wider accommodation boom to serve the University of Glasgow.
Built on the site of former warehousing the project is restricted by the presence of an underground rail tunnel which has imposed a 20m buffer which will be given over to amenity space.
Consisting of three separate blocks built above a semi-basement parking space the scheme is intended to deliver a strong street frontage and a skyline presence through two taller seven storey elements.
Built using a modular container system, room, stair and corridor elements will be prefabricated off-site before being assembled in-situ; so providing the strength and flexibility necessary to switch rooms for stair cores, punch connections between adjoining rooms, and remove bathrooms or areas of façade as required.
In their design statement ICA wrote: "All of the blocks have the same architectural language which is classical in nature with strong cornice lines at ground, first and third floors with the upper floors differentiated with a change in colour and cladding detail. The cornice lines break up the vertical panels which sit between the regular grid of windows.
"The footprint of the building takes advantage of the southern facing aspect, by creating south facing external spaces which will be lit both in the winter and the summer. The fingers of the proposal allow a large number of rooms facing east and west to gain light in the morning or evening."
Each block will be clad in a mixture of lightweight FibreC cladding boards and zinc.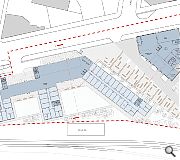 A glazed shared amenity space will connect two of the blocks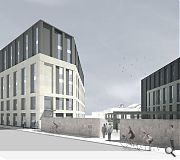 A semi-private public space will bisect the site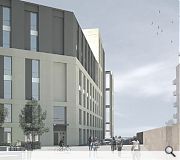 An existing sandstone wall will be retained with new access routes punched through
Back to August 2014