Architects for YES set for Edinburgh launch
August 19 2014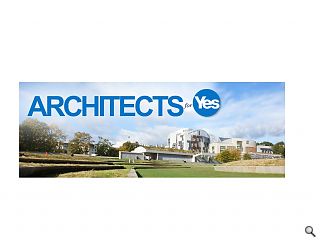 A new campaign group encompassing pro-independence Scottish architects is to be formally launched on Calton Hill, Edinburgh, at 1pm on Thursday after fifty architects signed up to a declaration for independence issued by
Architects for Yes
, part of a late push to
win over crucial undecided voters
.
One of those to sign the petition, Malcolm Fraser, said: "It feels that, in today's Britain, my primary responsibility as an architect is to serve Big Business, and that the best I can aspire to is to build big, aggressive towers in London. But I believe, instead, that an architect's primary responsibility is to society, building places where all of us can share in the wealth of Scotland's built and natural environment, and that I share that care and concern with many.
"I hope that this "Architects for Yes" initiative will resonate with our fellow Scottish architects and convince them that the simplicity and self-reliance of Independence would embolden us to win a renewed focus on the social and environmental aspects of our craft.
"But I also hope that it will convince others, outside architecture, that the benefits of Government close to us, focussed on the needs and potential of all of us, should have a major, and positive, impact on their built environment. "
Architects for Yes organiser Alasdair Stephen, partner of Dualchas Architects, added, "There is growing excitement within the profession in Scotland as to what a Yes vote might mean.
"Firstly, there will be huge investment into our country and that should have a great impact on our industry. However, the real opportunities is the chance to help build a fairer, more equal society. I think architects are ideally placed to influence this process. Good housing, safe communities and a wonderful built environment is something we should all enjoy. We can help design a new, better Scotland."

Signatories in full:
Dorian Wiszniewski Architect and Academic
Honor Thomson Architect
Iain Malcolmson Partner
Crichton Wood Architect and Academic
Bruce Danraj Architect
Jill Andrews chartered architect
Graham Hogg Architectural designer
Michal Scieszka - M.Arch, BSc (Hons), ARB part 2 Architectural Assistant
Gordon Smith Sole Practitioner Architect
Rory Wilson Landscape Architect
Ruth Arlenne Mclennan Architect
Margot Stoddart Architect
Christine Graham Undergraduate Student
Gary Paterson Practice owner
Declan Hendrie Architect's Assistant
Jordan Byrne Architecture student
Felicity Coleman Architect
Ruairidh Moir Architectural Designer Part II
Jonathan Mennie Architectural Designer Part II
Sally Ruel Architect
Sue Manning Partner
Richard Thompson Architect
I. Duncan Porteous Architect
Charles Strang Consultant Architect-Planner
Graeme Ditchburn Architect
Patrick J Cronin Partner
Rory Flyn Architect
Andrew Squire Architect
Philip McLean Principle architect
Alasdair Stephen Partner, Dualchas Architects
Neil Stephen Partner, Dualchas Architects
Laura Stephen Part 2 architect, Dualchas Architects
Peter Wilson Director, the Wood Studio,
Institute for Sustainable Construction
Edinburgh Napier University
Mark Williams Director, HRI architects, Inverness
Director, JNESpace, Inverness
Bruce Newlands Director Kraft Architecture + Research
Roger Emmerson Senior Architect, 3DReid, Edinburgh
Nick Domminney Director and architect
Stephen Riley Architect
Andrew Douglas Apprentice Architectural Technician
David Somerville Director David Somerville Architects
Tom Sneddon Principle architect
Liam O'Shea Architectural Designer Part II
Ann Nisbet Architect
Peter Caunt Director + architect
Sandy Anderson Principal, block 9 Architects
Archie MacAlister Architect
Ian Parsons Principal, Ian Parsons Architect
Harman Scott Principal, Harman Scott Architecture
Roland Reid architect
Gail Halvorsen Principal Architect
Ross Aitchison Architectural Designer Part II
Peter Bowman Partner, Cre8 Architecture
Richard Heggie Director, Urban Animation
Neil Sutherland Architect & Managing Director, Makar
Willie Miller Principal, Willie Miller Urban Design
Suzanne McIntosh Director, Suzanne McIntosh Planning Ltd
Robin Livingstone Associate / Architect, 7N Architects
Design Tutor, ESALA, University of Edinburgh
Duncan Gammie BIM Coordinator and Architectural Assistant, Lifschutz Davidson Sandilands Architects
Euan McLaren Associate Director / Architect, 3DReid
Calum Duncan Senior Architect
Michael Laurie Michael Laurie Architect
Clare Armstrong Architect
Helen Lucas Principle, Helen Lucas Architects
Malcolm Fraser Principal, Malcolm Fraser Architects
William Smith Architect
Gunnar Grove-Raines Principal, GRAS
Jonathan Charley Academic
Back to August 2014