Keppie submit £40m Edinburgh film studio plan
August 18 2014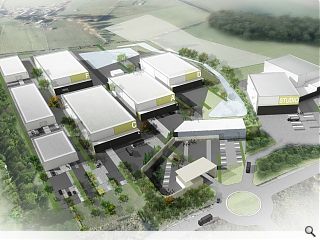 Keppie Design, acting on behalf of Pentland Studios, has submitted plans for a £40m film and television studio, alongside a hotel, residential and retail on a 29 acre site at Straiton, Edinburgh.
Pentland Studios has been conceived in a bid to draw international productions to the country by offering facilities for bot pre and post production together with 52,000sq/ft of workshop space and a large backlot area for outsize sets.
Pentland Studios director Gordon Ash said: "Our vision is to create the most modern film studio in the UK, with the scale and facilities to attract film-makers from all over the world. Scotland has already shown in recent years, with productions such as World War Z,
Cloud Atlas
and Outlander, that it has the scenery and locations to compete on a global level.
"What we are missing, however, are the really large-scale studio, filming and production facilities which would complement our locations and enable Scotland to harness much of the high-level investment which currently goes elsewhere.
"Our team comprises a range of film industry, property and finance experts with many years of international experience and we are very confident the location at Straiton offers an unbeatable combination of scale, facilities and deliverability."
Should planning be forthcoming the first four film stages could be complete by 2017 with a further four stages pencilled in for delivery during a second phase – the largest of which would reach 30,000sq/ft and some 70ft in height.
Back to August 2014