GRAS host Yes Scotland photo-op with one month to go
August 18 2014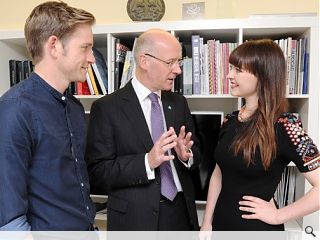 Grove-Raines Architects Studio (GRAS) have welcomed Scottish finance secretary John Swinney into their midst as part of a publicity drive designed to demonstrate small business support for Scottish independence.
The Edinburgh-based practice is throwing its weight behind efforts to break-up the United Kingdom on 18 September with just one month left to go until the historic vote, with GRAS director Gunnar Groves-Raines leading the charge.
Speaking to
Yes Scotland
Gunnar Groves-Raines said: "In a professional capacity I know independence is our only chance to stem the outward flow of Scotland's most talented individuals who feel they need to seek professional opportunities elsewhere. With a Yes vote I believe we will see an explosion in the arts and the creative industries and an end to the 'you have to be in London to make it' psychology.
"In a personal capacity, I believe that an independent Scotland will be a fairer, more democratic country with more accountable politicians that walk in the same streets as the people they represent. We have a very rare and exciting opportunity to design a country from the ground up, creating a sustainable, progressive and outward looking Scotland that we can be proud of."
Groves-Raines joins other supporters of independence including
Alan Dunlop, Alistair Scott of Smith Scott Mullan and Malcolm Fraser. Others such as Alan Dickson of Rural Design and Adrian Stewart of DO Architecture are opposed
, mindful of the potential impact on work south of the border.
The politically active practice has previously led plans to launch a
mobile debating platform
around the country to disseminate facts both for and against independence.
Back to August 2014