Work commences on Keppie designed home for the families of sick children
August 18 2014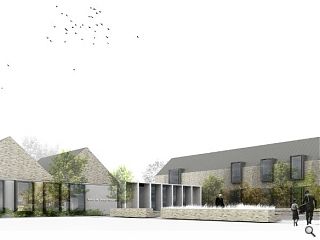 Work has begun on a new Keppie designed amenity and accommodation space for the families of sick children at South Glasgow Hospital Campus, to replace existing premises at Yorkhill.
Built on behalf of Ronald McDonald House Charities adjacent to the new children's hospital the building takes the form of three white brick components under slate pitched roofs, each connected to the other by glazed openings.
Interior spaces follow the profile of the external roofline to maximise drama, light and space to communal areas.
David Ross, design director at Keppie, said: "It is an honour for us to work on such an important and cherished facility for the families of sick children during a difficult and stressful time in their lives. Healthcare buildings have a traditional logic and function but often it's at the expense of finding a humanising perspective. This design aspires to a far greater proximity between the two."
Completion is expected by summer 2015.
Back to August 2014