Professor Andy MacMillan passes away aged 85
August 18 2014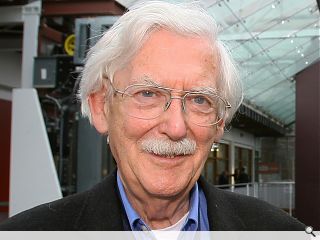 Professor Andy MacMillan a leading light of Scottish architecture in the post-war period passed away suddenly in Inverness on Saturday whilst on a judging visit for the RIAS Andrew Doolan Awards, exercising his passion for architecture to the last.
In latter years MacMillan, and his
Gillespie Kidd & Coia partner Isi Metzstein
who passed away in 2012, served as father figures to a new generation of architects through their teaching and awards work.
RIAS president Iain Connelly commented: "Andy was a great architect, an educator of international renown and one of the finest human beings it has been my privilege to know. His influence on generations of students at the Mackintosh School of Architecture and in the many other institutions where he taught, was immense.
"Andy's contribution to Scotland was among the most significant of any architect in the post World War II era. He will be remembered as someone who lived life to the full, who inspired all those he taught and all those who encountered him, as an individual of enormous talent, tremendous enthusiasm and irrepressible fun. Andy's legacy is the hugely improved built environment of Scotland wrought by his own hand and those of successive generations of his students. He will forever be missed."
A celebration event to mark MacMillan's legacy to the profession and country will be held following a private funeral with those wishing to give flowers invited to make a donation to the St Bride's Church restoration fund instead.
MacMillan is survived by his wife and four children.
Back to August 2014