University of Dundee launch suburban housing design study
August 18 2014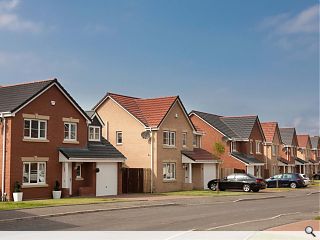 The University of Dundee is to lead a study zeroing in on the quality of design (or lack thereof) of new suburban housing, in an effort to boost standards ahead of projected suburban expansion over the next 15 years.
A spate of sprawl is anticipated in Perth & Kinross, Edinburgh and the Lothians and Aberdeenshire as local authorities scrabble to meet an expected 20 per cent population increase.
By bringing together academia, industry, government and regulatory bodies the study aims to assess how architecture can be prioritised through new methods of procurement in the delivery of volume housing.
Professor Graeme Hutton, head of architecture and planning at the University said: "The Scottish Government has already outlined its commitment to improving the quality of the built environment yet no empirical evidence exists to unequivocally prove that the policy statement has had any demonstrable impact on the everyday physical quality of the architecture and environment being presented to the public.
"In particular, the continued acceleration of anonymous but market-friendly volume house building estates across Scotland suggests that the development of the suburbs has largely escaped critical scrutiny. What we have continued to see in the majority of cases is a `product-led' rather than `place-led' approach to expanding provision in our towns and cities.
"It is well researched that good architecture `adds value'. There is, however, an increasing perception that architecture is the province of individual `signature buildings' with little engagement of architects in designing buildings and places which belong to the `everyday', particularly in relation to volume house-building."
The Glasgow School of Art together with the Universities of Edinburgh and Strathclyde are also collaborating on the venture.
Back to August 2014