Student housing scramble reboots Bath Street gap site plan
August 14 2014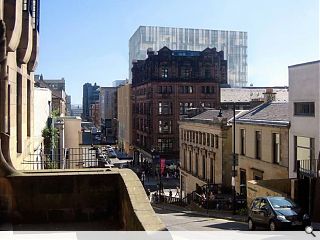 Revisions to a significant commercial scheme in the heart of Glasgow (previously led by RMJM) have been made by Church Lukas on behalf of Omni Developments as part of a move away from office and hotel usage in favour of student housing.
Built on the site of the former
Elgin Place Congregational Church
, unceremoniously bulldozed by Glasgow City Council at Christmas 2004, the scheme will incorporate 1136sq/m of ground floor retail with accommodation for 320 student stacked above.
Design amendments include the use of a much larger central atrium to provide a dynamic social hub for occupants,a minor reduction in overall height by relocating plant to basement areas and an increase in the retail frontage along Bath Street.
A roof terrace will also be included where the stone plinth meets a glass extrusion.
In their design statement Church Lukas said: "Working within the parameters of an extant planning consent, this proposal will deliver an alternative mix of uses (student residential & retail) whilst adhering to the approved aesthetic framework."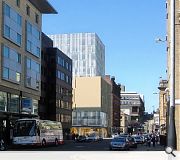 A blank gable is now presented on the Bath Street/Pitt Street junction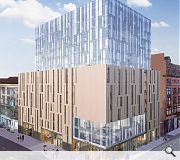 A stone plinth is aligned with the existing Bath Street datum
Back to August 2014