Glasgow's City Wharf springs back from the dead
August 14 2014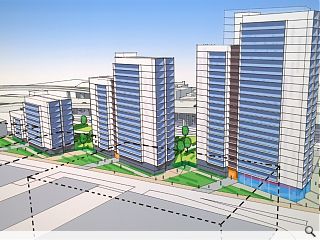 Hot on the heels of its recent
Glasgow Harbour public consultation
Dandara has followed up with a second exhibition detailing its rekindled ambitions for another of its mothballed Glasgow sites, City Wharf at Cheapside Street.
Located in the shadow of the Kingston bridge the scheme has been scaled back somewhat from its pre-recession guise but will still make a statement in the form of a 24-storey tower, something the authorities are actively pushing to establish a 'gateway' for motorists entering the city centre.
Indicative plans by Axis Mason show three staggered blocks rising in height from seven through 18 storeys toward the riverfront peak along a linear parkland landscape. Each block is slightly offset from the next to maintain through views and will contain a combined total of 570 one and two bed rental apartments.
The natural topography of the site will be harnessed to provide underground parking and some ground floor commercial space. Plans to incorporate a commercial element to the project as a buffer to the motorway have been quietly shelved for the time being although may be revisited at a later date depending on market conditions.
In a statement Dandara said: "The development will enable the creation of a new public square fronting the River Clyde. The apartments will also be set around an expansive area of landscaped open space.
"The landscape scheme will draw on inspiration from the industrial heritage and existing local materials to include chunky timber, steel and concrete. High quality hard paving is also proposed."
A full planning submission is expected to be made in September.
In separate developments Hypostyle has been appointed to prepare a master plan for the wider Broomielaw area and rumours continue to swirl around a possible public realm investment in Charing Cross arising from the recent
City Deal funding initiative
.
Councillors are reportedly giving serious consideration toward allocating a chunk of this cash toward decking over a section of the M8 to maintain the momentum of ongoing regeneration work in the area. A spokesman for Glasgow City Council wouldn't confirm or deny this when queried however.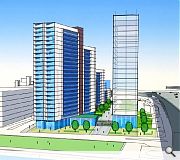 Dandara hasn't ruled out a future commercial block on the site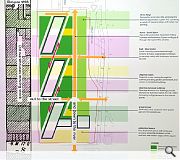 Improving pedestrian access to the river is a key goal of planners
Back to August 2014