Hackland + Dore unwrap Glasgow student housing
August 13 2014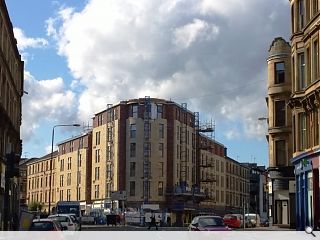 Hackland + Dore Architects have unwrapped a
117 bed student residential project
with ground floor retail at the gushet of Argyle Street and Old Dumbarton Road.
Clad in cast sandstone and brick the properties have been built on the site of a former petrol station, which itself replaced St Enoch's United Free Church, terminating the vista along Argyle Street.
In a design statement Hackland + Dore said: "The elevational treatment is a simple and modern interpretation of the surrounding classical tenements. The elevations are sympathetic to the immediate context both in solid to void proportions and the proportions and grouping of window openings.
"A simple metal band separates the ground floor from the upper storeys, reflecting the shop signage zone on the adjacent tenements and providing space for future signage requirements for the ground floor commercial uses."
Plans to incorporate a basement level and use natural sandstone and glazed brick were dropped following initial planning consent.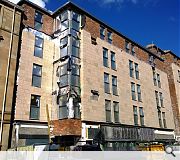 natural stone has been replaced with cast stone for the delivered build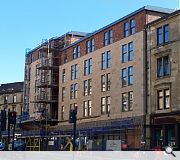 The development respects existing cornice lines and shop frontages
Back to August 2014