Yet more student housing on the cards for Partick
August 14 2014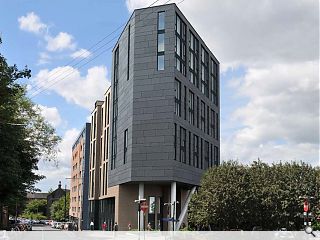 A spate of student housing development in Partick shows no sign of abating with the
submission of plans for a further build
on vacant ground whilst improving connectivity with the River Kelvin as part of the Kelvin Walkway master plan.
Designed by Manson Architects on behalf of Watkin Jones it is the second phase of an
earlier development of 201 student beds
, to which it will be connected by a glazed amenity space.
In their design statement Manson said: "A palette of three materials has been selected for their simplicity, durability and quality. Glass, bricks and a textured fibre cement panel. The buff coloured bricks create a robust body for the building, while the lightweight but darker tone of cladding creates a positive contrast and distinction between the two. The glazing at ground, lower ground and first floor level creates glass plinth that the building rests upon.
"The connection we are proposing to the riverside walkway builds on an existing, somewhat mean, pedestrian route. The mass and scale of the building has been designed to help emphasise this route and make people aware of its existence, thereby encouraging heavier use. We have done this by creating a taller end piece to the building - a visible signal to the public that something of importance happens here while providing something of a landmark that clearly indicates the start of our pedestrian route."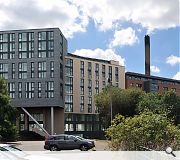 Manson hope the scheme will mend the 'fragmented' nature of Old Dumbarton Road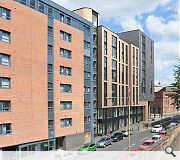 The neighbouring Yorkhill Hospital is the subject of much speculation over prospective redevelopment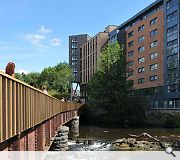 The scheme plugs into the Kelvin Walkway master plan
Back to August 2014