Planned Girvan leisure Centre receives £4m funding boost
July 8 2014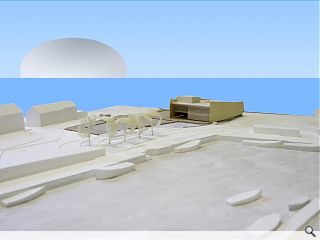 South Ayrshire Council has moved a step closer to delivering a new
Girvan and South Carrick leisure and community facility
after committing £4m to the project – after a revised business plan and design slashed the original £8m budget.
This sum represents 80 per cent of the total £5m capital required to make the new scheme a reality and gives a shot in the arm to South Carrick Community Leisure, a community group seeking to raise the remaining £1m.
Andrew Sinclair, chair of the board of SCCL, said: "This is a really exciting time for the project and the pace of progress is increasing all the time. Over the last couple of months, we've approved a realistic and achievable design and business plan for the new facility, and we now have the full £4 million commitment from the Council.
"We've also heard this week that our bid to the Scottish Government for £250,000 from the Regeneration Capital Grant Fund has progressed to the second round. That's fantastic news for Girvan and South Carrick and shows just how far we've come. We've got an affordable facility, with the majority of capital monies confirmed by the Council, and a number of funding streams being actively pursued by SCCL for the remainder."
Facilities offered by the centre will include a 25m pool, play area, gym, studio and café from a waterfront location overlooking Ailsa Craig.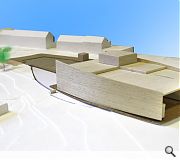 An indicative model of the Girvan Harbour project
Back to July 2014