Craft brewery offers drinkers the chance to brew their own beer
July 7 2014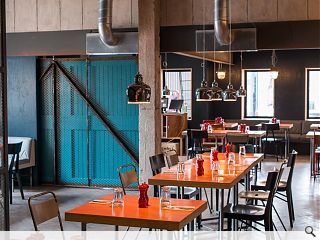 Graven Images have unveiled an industrial aesthetic craft brewery in Glasgow's east end, following conversion of a redundant 1960's warehouse.
Drygate Brewing Co consists of a restaurant, bar, roof terrace, gallery space and 'Studio Kit' area where beer enthusiasts can have a stab at fermenting their own yeasty mix – said to be the first venue of its type in the UK.
Run by William Bros. Brewing Co in tandem with Vintage, the Leith based gastro-pub, the enterprise seeks to respond to its robust setting with a dark grey exterior palette, sawbone roof and outsized signage.
Interior space is defined by a restored concrete staircase, original tiling, exposed brickwork with mild steel, cast concrete,solid wood and polished patinated copper in the bar area.
Surfaces are finished in a mixture of coloured resin and paint, contrasting with elements of metal mesh and blackened steel whilst a statement glass wall provides a window onto the working brewhouse.
Lauren Li Porter, project designer at Graven Images, commented: "Our idea was to make something iconic amongst all the surrounding landmarks, and in harmony with Drygate's industrial features. There was already an interesting structure in place, so we thought about the roots a lot and designed around the elements we felt didn't need to be replaced."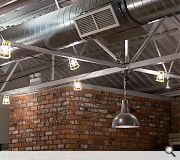 As much of the old warehouse as possible was retained, down to paint splodges on the floor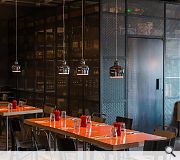 Drinkers have access to a roof terrace offering views over the Necropolis
Back to July 2014