BBC screen documentary chronicling the GSA's new Reid Building
April 30 2014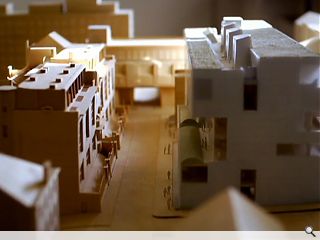 The BBC has screened a new documentary charting the delivery of Sten Holl and JM architects Reid Building for the Glasgow School of Art.
Facing up to Mackintosh charts the three year-long design and construction challenge presented by the ambitious build which sits in the shadow of Charles Rennie Mackintosh's masterpiece.
Produced in collaboration with four recent graduates, Roberta Knox, Gibran Farrah, Walter Hamilton and Lu-Sisi, the film features interviews with Muriel Gray, Adrian Wiszniewski, Martin Boyce, Steven Holl and Janice Kirkpatrick.
In the piece former Graven Images founder Janice Kirkpatrick lauded the 'canyon' feel imparted to Renfrew Street by the new build with fellow Graven director Ross Hunter remarking: "I like the way it puts pressure on the street. They're squaring up to each other and the two buildings are almost, I wouldn't say growling at each other, but they're certainly not trying to get off with each other."
The full production can be viewed on
BBC iPlayer
for the next seven days.
Back to April 2014