Demolition to commence on illegal Bishopbriggs home
April 29 2014
Demolition is set to get underway later today on a £500k Bishopbriggs home which was built in contravention of its own planning consent - after East Dunbartonshire Council served an enforcement order on the property's owners.
The five bedroom property exceeded the dimensions specified in its original plans by two metres in height, three metres in length and 1.2m in width – alongside unapproved windows and an illegal 13ft balcony.
This prompted
submission of a retrospective planning application by architects CRGP
which was subsequently thrown out by planners who were scathing of its 'incongrous' contribution to the street scene and an 'overbearing and overdominant' impact on neighbours.
As such, two years after being built, the home lacks both planning consent and a building warrant leaves its owners nothing to show an £11.5k demolition bill.
Blaming contractors for the debacle owner Andy Murray said prior to the demolition: "I don't blame the council. They have exhausted every other avenue. It is a disaster for us. We'll be out on the street."
CRGP declined to comment on the affair and main contractor Textura is in voluntary liquidation.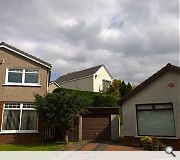 The overscaled property towers over neighbouring bungalows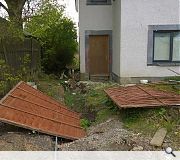 Vandals have broken into the rubble strewn site
Back to April 2014