Business case for Shawfield Innovation Park reviewed
April 24 2014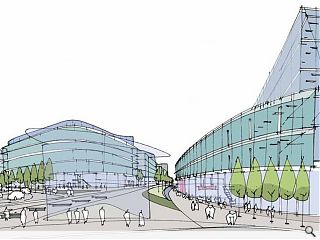 BRE and Clyde Gateway have announced they are to conduct a full business viability review into the economic case to build a new
Innovation Park at Shawfield
, South Lanarkshire.
The £6m Commercial Innovation Park would see creation of up to five commercial buildings on a 5 acre plot, offering office space and a visitor centre alongside energy, manufacturing, testing and demonstration buildings, each of which would make use of innovative materials, technologies and designs in the pursuit of BREEAM 'Outstanding' performance.
Uniquely the estate would also provide the capabilities for live testing and monitoring to gauge the effectiveness of these solutions on an ongoing basis, providing valuable insights to industry seeking improvements in energy efficiency, sustainability and air quality.
BRE Scotland director Rufus Logan said: "Commercial building stock creates 18% of the UK's carbon emissions – the rising costs of energy are affecting the profit margins of many businesses who own and lease buildings, we know that we must continue to drive improvements. The proposed Shawfield development could provide an opportunity to consider the best ways to do this. The buildings would all be operational and occupied which means they could be closely monitored in terms of occupant comfort and behaviour, as well as environmental impact, and the lessons used to inform future learning and development."
This would complement BRE's existing Innovation Park at Ravenscraig which focusses on energy efficiency in residential design.
Back to April 2014