RIAS call for £1m 'bounty' to save Perth City Hall
March 12 2014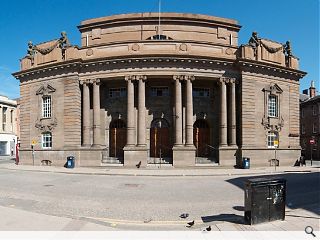 The Royal Incorporation of Architects in Scotland have weighed into the debate surrounding the future of Perth City Hall by arguing strongly against its demolition, describing the B-listed building as being of national architectural importance in an 11th hour intervention.
Instead the organisation wants Perth & Kinross Council to allocate £1m as a 'bounty' to support re-use of the existing building, just months after the authority opted to pursue plans for a new city square on the site, after
throwing out earlier plans to convert the Edwardian venue into an indoor market
.
Outlining his case against demolition RIAS secretary & treasurer, Neil Baxter, stated: "The opening of Perth Concert Hall replaced the former use of the Edwardian City Hall. As both buildings are owned by the local authority they didn't want to compete on their own turf and started to pursue the demolition of their own, hundred year old building. That would be fine if the historic building was not of national importance and international interest.
"Perhaps more important, the Concert Hall is part of the densely built fabric of the city which, like so many wind-swept Scottish places, has a medieval streetscape that lends unique character. The Council's proposal, to replace the building with a gap site, or in their terms, a 'piazza' indicates a serious misunderstanding of the character of the city which they were elected to protect and benefit. Remove this key building and you do fundamental damage, civic vandalism which would be regretted for decades to come.
"The Concert Hall, a fine, robust, adaptable building still has a major contribution to make. It needs the imagination of a responsible administration to restore and re-use it positively. It is easy to conspire to destroy anything good. Saving something good, as a legacy for the future, requires vision and imagination. How about, instead of spending £4m of public money on destroying something irreplaceable, spend £1m as a bounty to support a new viable commercial enterprise within the Concert Hall's beautiful historic walls. Then the people of New York and very many folk closer to home would be singing Perth's praises, rather than deriding its folly. Perth Council should stop acting like a town council and become a city council. All of Scotland would benefit, Perth most of all! "
Back to March 2014