Maggie's Forth Valley secures planning permission
March 11 2014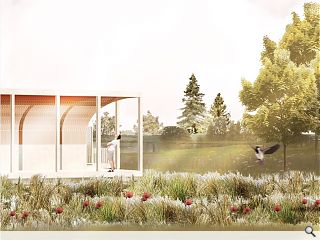 Nord Architecture has won planning permission for what will be Scotland's ninth Maggie's Centre at Forth valley Royal Hospital, Larbert.
Inspired by wrought iron Victorian pavilions the building references historic connections to the iron industry from the area and will be the first such respite centre to be built beside a lochan within 70 acres of mature woodland.
Nord director Alan Pert commented: "How to establish relationships between an ornamental loch, a new Maggies Centre and its expansive surroundings is the main concern of our design. A series of rooms are wrapped by a veranda, which creates a shaded space for leisurely promenade and a place to shelter from the rain. Placed in a commanding position next to the ornamental loch the colonnaded pavilion differs from many previous Maggie's Centres, which have had to create a landscape setting for the building.
"The veranda acts as a mediating space between the expansive landscape setting and the internal layout, which is arranged to offer a retreat and places of intimacy from the vastness of the outside world, whilst being able to celebrate the beauty of the expansive surroundings and all the hopes that the outside has to offer."
It is hoped to build the centre for delivery by summer 2015, after a separate Maggie's Centre in Lanarkshire which is scheduled to complete later in the year.
Back to March 2014