Dumfries & Galloway councillors to decide Star of Caledonia's fate
March 12 2014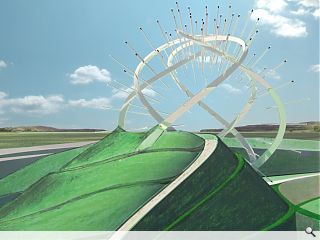 Proponents of a sculptural landmark at Gretna are to showcase a scale model of the design within the Scottish Parliament next week in a bid to drum up political support for the venture ahead of an 18 March vote by Dumfries & Galloway councillors over whether to match £1m in funding provided by Creative Scotland.
Designed by Charles Jencks and Cecil Balmond
The Star of Caledonia
will be twice the size of the Angel of the North, becoming a prominent sight for the 10m drivers and passengers per year who will pass the monument. It is hoped that this presence will encourage more people to pull over with the sculpture becoming a tourist draw in its own right, thus boosting the local economy.
Balmond said: "The Star of Caledonia captures the powerful energy, scientific heritage and magnetic pull of Scotland and the design pays homage to Scottish innovation. Penicillin, television, telephone, logarithms, the steam engine, discovery of the circulation of blood in the body, the postulation of electromagnetism — our world owes much to Scottish genius."
Funding would allow construction of the border marker to take place in 2015 but should they decline its backers will be left scrabbling for alternative funding streams.
Back to March 2014