Battle of Bannockburn visitor centre opens its doors
March 6 2014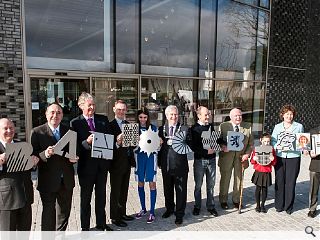 A new visitor centre built to tell the story of the Battle of Bannockburn has been opened to the public for the first time by the National trust for Scotland and Historic Scotland, ahead of the 700th anniversary of the brutal conflict in June.
The hi-tech facility houses a unique killer app in the form of a 360 degree wraparound screen on which motion captured actor's role play interactive scenes from the battlefield to immerse visitors in a realistic 3D recreation of the medieval event.
Designed by Reiach & Hall the new centre is
built with a simple finish of textured grey brickwork
and is centred on a small courtyard around which a shop and café are arranged.
First minister Alex Salmond said: "The highest compliment I can pay to this centre is that it rises to its setting. Through sensitive architecture, modern scholarship and stunning computer graphics, it will enable people from Scotland and around the world to understand why Bannockburn has resonated down these ages."
The new visitor centre was delivered by Sinclair Knight Merz, Turner and Townsend, Ian White Associates and KJ Tait.
Photography by
Keith Hunter
.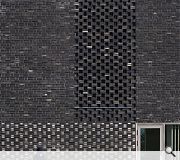 A 1960s statue of Robert the Bruce by Pilkington Jackson has also been restored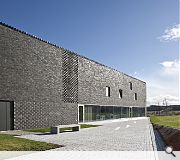 Modest in scale the project is intended to return some gravitas to the battlefield site
Back to March 2014