Skye Community Hub secures £1.2m lottery grant
March 6 2014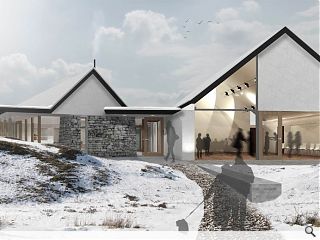 Plans to build a new community hub on the Isle of Skye have received a major boost after the Big Lottery Fund agreed to stump up £1.2m to help finance the build, including a 200k grant to help the Hub establish itself as a social enterprise.
The funds will go a long way toward financing the £1.8m build, proposed by the Camuscross & Duisdale Initiative and WT Architecture, which will incorporate a hall, shop and café on a prominent plot overlooking the Sound of Sleat.
Camuscross & Duisdale Initiative chair, Mark Wringe, said "This is fantastic news, we're all 'air bhioran'* that the Hub is now within touching distance. Getting this far is down to the hard work and dedication of a number of individuals within the community, great advice from outside it, and an early announcement of support from Highland Council - plus architects who have been outstanding in working with the community.
"There is still a very significant amount of match-funding to be achieved from other sources, but it's hugely significant that the BIG Lottery has shown complete confidence in our ability and our plans. Their endorsement can only help our discussions with the other sources of funding."
Wil Tunnell of WT Architecture added: "They have worked incredibly hard to identify what the community needs and how new the facilities could be both viable and sustainable."
If match funding can be secured it is hoped to open the new hub in 2016/17 to combine with
separate plans to build a Gaelic language and cultural centre elsewhere on the island
.
*very excited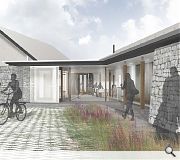 The new hall replaces a store which closed several years ago with an outlet for local produce, as well as space for gatherings and support for the Gaelic language
Back to March 2014