Ian Springford completes Magdalene Drive church hall and housing
December 13 2013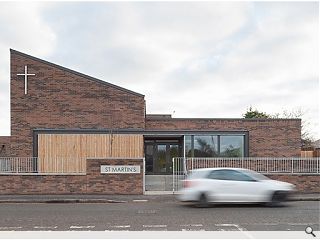 Ian Springford Architects have completed a new build church hall for
St Martin's Parish Church, alongside a development of 12 flats and 11 houses
, for Port of Leith Housing Association.
Occupying the plot of the original 1950s church building the scheme provides the congregation with a smaller, more flexible space for worship whilst also freeing up land for housing.
Finished in a uniform multi0hued brick to give enliven the developments simple forms the buildings are highly insulated with very high levels of air tightness.
Windows are triple glazed to reduce heat loss and energy usage whilst high efficiency condensing gas boilers have been installed together with photovoltaic panels.
New flats relate to an existing four storey block whilst the church reconciles a reduction in levels to existing bungalows to the west.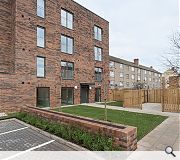 New housing is grouped into terraced blocks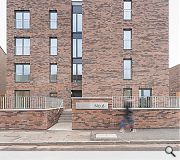 Terraced housing fronts onto a shared space
Back to December 2013