Meadowbank Stadium to be demolished in redevelopment plan
December 12 2013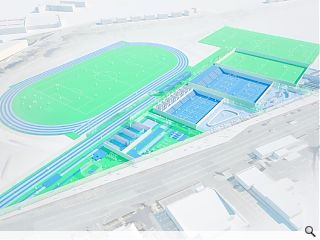 The City of Edinburgh Council has published three distinct visions for the redevelopment of
Meadowbank Sports Centre and Stadium
following a preliminary appraisal of options for the venue.
The trio of concepts have been drawn up by Reiach & Hall and the Sports Consultancy and all envision demolition of the 1970's structure to make way for modern facilities
At a minimum this would see a ten-court sports hall with seating for 2,500, a five-court sports hall with bleacher seating for 650, a full-sized 3G training pitch for football and rugby, an outdoor athletics track with a central grass pitch and seating for 500 built on the site for £35.1m.
Should it be deemed necessary then this basic concept could be extended to include a full-size 3G pitch and an indoor 3G pitch at a total cost of £41m.
A final, maximum, option would include a 10,000 capacity stadium, an indoor athletics training facility, indoor tennis centre and an indoor velodrome – but comes with a maximum price tag of £85.2m.
Councillor Richard Lewis said: "Meadowbank is a much-loved and well-used facility but it is now nearing its fiftieth birthday and those facilities that were once considered state-of-the-art, are now no longer fit for purpose.
"I strongly believe that this city desperately needs new facilities at Meadowbank and that we should focus on a more compact, regional standard training facility that is tailored to the current and future sporting needs of both the community and the national governing bodies."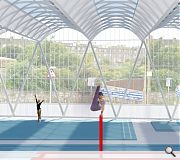 Glasgow's stint as Commonwealth Games host has spurred the long-held plans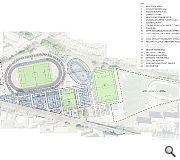 The so-called 'maximum' option is thought unlikely to be delivered due to cost restrictions
Back to December 2013