Edinburgh's James Gillespie High School breaks ground
December 11 2013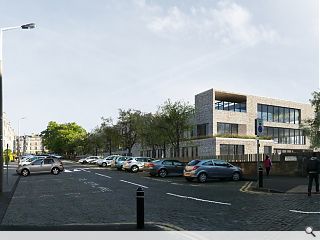 Work to build a new
James Gillespie's High School
in Edinburgh has commenced with Morrison Construction moving on site of the £34m development.
Designed by JM Architects on behalf of Edinburgh City Council the scheme entails demolition of the existing school alongside refurbishment of the A-listed Bruntsfield House to provide accommodation for 1,150 pupils.
Replicating the use of brick as found in the existing school facades will be interspersed with large format concrete blcoks in limited areas along with some areas of render.
In their design statement JM said: "The new campus proposals considered the importance of Bruntsfield House and its central role in the new school. In addition the historic avenue and the courtyard in front of Bruntsfield House were considered central to
the proposals
"The campus proposal seeks to remove all the buildings to the north of Bruntsfield House and thereby create new or enhanced views of the House from the Primary School entrance gate and from the new High School entrance gate off Warrender Park Road.
"The landscape proposals will enhance the north aspect of the House by recreating an echo of the formal gardens which once existed on the site."
The new school is scheduled to open its doors in summer 2016.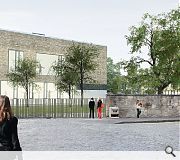 A southern courtyard serves as the main arrivals point and social space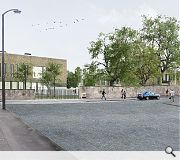 Sedum roofs will be incorporated to the new build elements, which defer in height to Bruntsfield House
Back to December 2013