World's largest wind turbine unveiled in Fife
October 21 2013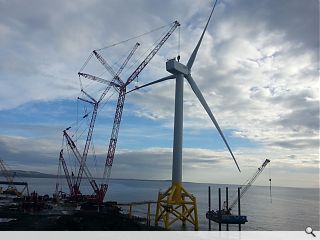 Graham Construction has completed the installation of the world's largest wind turbine on behalf of Samsung Heavy Industries at Energy Park Fife.
The 196m tall structure is scheduled to begin power generation later this year and will deliver enough electricity to power 4,800 homes.
It will also act as a technology proof of concept, potentially paving the way for the manufacture of additional turbines via an on-site manufacturing facility.
Maggie McGinlay director of energy and clean technologies at Scottish Enterprise, said: "The development of the SHI turbine in Fife is testament to Scotland's growing reputation as a global centre of expertise for the next generation of offshore wind energy technologies.
"This, along with planned investment from other key players such as Areva and Gamesa, is helping to create a potential manufacturing hub on the east coast, which would lead to significant opportunities for our supply chain companies.
The Scottish Government is backing the project as part of wider efforts to ensure that the nation's energy requirements can be met exclusively through renewable sources by 2020.
Nuclear power has been ruled out north of the border as part of the energy mix – in
stark contrast to the UK government's approach
.
Back to October 2013