Cambridge trials solar powered glow in the dark pavement
October 22 2013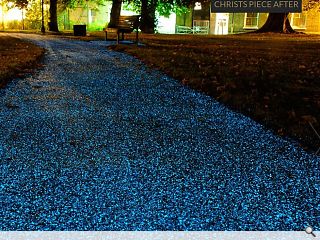 Cambridge City Council has trialled the use of a novel spray on liguid which transforms staid tarmac into an effervescent lighting strip to improve amenity of a local park after dark.
Developed by Pro Tech Surfacing Starpath has been applied to a public footpath in Christ's Pieces and is touted as being cost effective and low maintenance.
The custom chemical spray is applicable on either soft or hard surfaces such as concrete, tarmac and timber and works by absorbing UV light through the day and emitting it by night.
This means it can be applied without the disruption of laying new surfacing and results in a constellation of speckled lights glowing from the surface coating.
Hamish Scott, owner of Pro-Teq Surfacing said, "There is nothing like Starpath in the world, this product adjusts to the natural light, so if it is pitch black outside the luminous natural earth enhances, and if the sky is lighter, it won't release as much luminosity – it adjusts accordingly, it's almost like it has a mind of its own.
"Our product is cost effective, fast to apply and fast to set, is an anti-slip surface, while the client has a choice of size and colour of aggregate. Once the aggregate is laid we apply a finishing coat, which is specially formulated to ensure the surface is water-resistant, and provides longevity to the finished product. Further, the surface is environmentally-friendly and aesthetically pleasing".
Scott added: "… you need to physically see it to believe it, this is pure nature doing its work".
Back to October 2013