Union warns of economic impact of Scotland's anti-nuclear policy
October 21 2013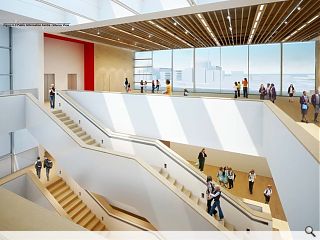 GMB, the union for energy workers in Scotland, has warned that the country risks missing out on a new breed of nuclear power stations as French energy giant EDF and the UK government press ahead with a £14bn plan for a new reactor at Hinkley Point C, Somerset.
Existing plants at Hunterston B and Torness are scheduled to be decommissioned in 2023 with no plans in place for their replacement.
This has prompted renewed calls upon the Scottish Government to indicate how it intends to guarantee future energy supply.
Jim Moohan, GMB Scotland senior organiser, said "The First Minister is hanging on to the coattails of the UK Government on the nuclear question without giving clear indication to the Scottish people what safeguards he has in place for the long term.
"The renewables factor will not sustain our energy requirements. It is time the pressure groups and politicians who continually put down the nuclear sector come clean as to how they would address our energy needs in the long term.
"GMB is clear that a nuclear build programme is vital to the Scottish economy. It has a proven track record of clean and carbon free vital for the balanced energy policy Scotland needs."
Responding to the news energy secretary Fergus Ewing said: "Today's announcement confirms that consumers across the UK will be paying for nuclear generation until after the middle of this century. The single nuclear station at Hinkley could be eligible for consumer funded payments totalling around £1 billion per year, depending on wholesale prices. These payments will apply for the length of the contract being awarded – which, at 35 years, dwarfs the 15 years being offered to renewable energy technologies.
"The cost of this single station alone is comparable to the £43 billion which the UK Government's budget is assigned for all energy technologies between 2013/14 and 2020/21 and risks squeezing out home grown developments for imported nuclear technology."
Six other new nuclear power stations are planned in England at Oldbury, Wylfa, Heysham, Sellafield, Hartlepool, Sizewell and Bradwell.
Back to October 2013