Contractor appointed for Chapelton phase one work
September 23 2013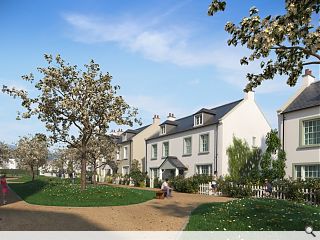 Civil engineers W M Donald have seen off a six strong shortlist to secure an £8m tender for phase one works of Chapelton, Scotland's largest New Town.
This work will entail construction of new roads, drainage, services and landscaping to support the first tranche of 255 homes to be built on the 2,000 acre site.
Dubbed Cairnhill it will be the first of seven new neighbourhoods to appear on the greenfield site, which will ultimately play host to 8,000 homes, schools, offices and its own High Street.
William Donald, managing director of W M Donald, said: "This is a very exciting project for us to be involved in and we look forward to creating a number of jobs for local people.
"Being on board at the start of such a flagship development is great news for us and we look forward to starting work on the site as soon as possible."
Lord Southesk, director of Elsick Development Company (EDC), added: "Today's announcement is a statement of intent that we are moving from the planning to the construction phase. It will be very exciting to see the diggers begin."
Valued at £2bn Chapelton has been described as the largest new settlement in Scotland for a generation.
Back to September 2013