Colin Montgomerie unveils Maggie's Aberdeen
|
Send to friend
September 23 2013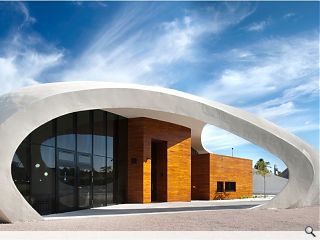 The latest Maggie's Centre to open its doors to cancer patients has been officially unveiled by golfer Colin Montgomerie HM the Queen of Norway and HRH the Duchess of Rothesay.
Named after Montgomerie's mother the Elizabeth Montgomerie Building will support more than 500,000 people from across the north east and is the 17th centre to be built by the cancer charity since the first in Edinburgh back in 1996.
Designed by Norwegian architectural practice Snohetta, in partnership with Halliday Fraser Munro, the scheme is conceived as a pavilion in a parkland setting.
This sees a soft exterior 'pebble' shaped concrete shell envelop the centre and define a courtyard space with timber interiors helping to create more intimate spaces. A field of cut pattern grass and retained trees help to embed the centre into its landscape.
Kjetil Thorsen, founding partner of Snohetta, said: "In a world of architectural commercialism, it has been the most meaningful task to seek employment with spaces, materials and landscapes in the service of psychological and emotional healing processes.
"Maggie's continuous and thoughtful effort to provide surroundings of exceptional quality and content for people with cancer diseases affects us deeply as architects, as family and as humans."
The new centre was
completed following a 54 week build programme
.
Photography by Philip Vile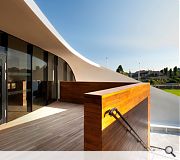 15 local trainee architects gained on-site experience via the project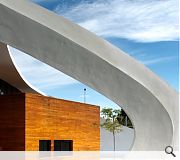 The construction team adapted a technique normally used to finish tunnels to create a reinforced concrete cage,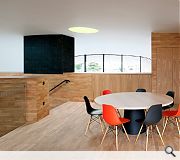 Timber interiors were specified to create a more intimate environment
Back to September 2013