Notre Dame Primary welcomes first pupils
|
Send to friend
August 23 2013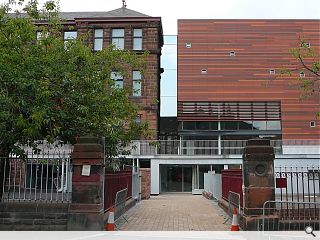 The new £15m Notre Dame Primary has opened its doors to pupils following a decant of teachers and students from the old school, now being converted into housing.
Situated within the former Dowanhill Primary the new building combines Notre Dame with St Peter's Primary and houses a total of 15 classrooms, games hall, library and relocated Anderson Street Nursery.
These are incorporated in a new build block within the grounds of the existing C listed school, which has itself been extensively upgraded.
Works included the installation of new perimeter railings and gates, landscaped playgrounds and a new raised deck connection to the adjacent Dowanhill Park.
Designed by Glasgow City Council the new school is finished in a terracotta rain screen cladding system designed to gel with the red sandstone of the historic school.
In their design statement GCC observed: "Teaching methods and social attitudes have changed beyond recognition since 1896, with ample evidence embodied in the fabric of Dowanhill School.
"The design team, the client team and the stakeholder groups are confident that the solution achieves the highest design standards and offer the best balance between the multiplicity of conflicting interests as well as value for money."
Back to August 2013