Cairngorms farmhouse restoration and extension wins planning
August 26 2013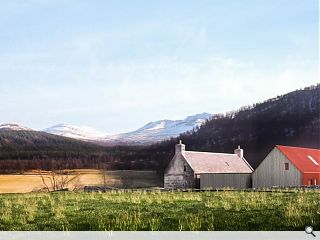 A derelict farmhouse within the spectacular setting of the Cairngorms National Park has won a prized planning permission for its restoration and extension.
Coldrach is located north of the River Dee at Crathie commanding expansive southerly views down the Dee Valley and will be sensitively restored by Moxon Architects with original windows and fireplaces reinstated.
An extension to the rear of this building will follow the topography of the site, impacting only upon the northern aspect which will be levelled to allow construction of a timber and red-oxide finished metal structure.
Replicating the form and scale of the existing farmhouse in a contemporary manner the extension forms a sheltered west facing courtyard garden, stepping down below ground level to increase floor to ceiling heights.
The south west corner will be fully glazed to maximise views out to the summit of Lochnagar.
Back to August 2013