Architecture students deliver remote Isle of Lewis viewpoint
August 23 2013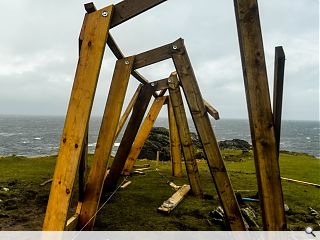 A group of students from the Strathclyde School of Architecture and the Mackintosh have undertaken a field trip to the remote Isle of Rona to participate in an exercise designed to illustrate the latent potential and opportunities present in outlying islands.
Dubbed 'A Transient Stanza' this culminated in the erection of a simple wooden structure on the most northerly point of the Isle of Lewis, carefully aligned to orientate the gaze of visitors toward the distant Isle of Rona and modelled on an Oratory constructed by St Ronan on Ronan in the 8th century.
Assembled by a team of nine; including Ross Cameron, Andrew Frame, Lewis Grant, Donna Macdonald, Ruairidh Moir, Rory More, Scott Simpson, Emily Stephen and David Wyllie, the project necessitated close collaboration in a gruelling environment.
Commenting on the expedition Moir, who is dedicating his masters thesis to the area, said: "It may not be too bold to claim that the story of St Kilda can be recalled by more people than those who can cite what happened to the ancient race of the Isle of Rona.
"This fertile island lies 44 miles equidistant between the Butt of Lewis and Cape Wrath, and the traces of past existences are still preserved in its landscape. It was here that St Ronan exiled himself to a life of hermitage around the c. 8th century and here that a civilisation collapsed in c. 1700, it's thought, due to an invading rat."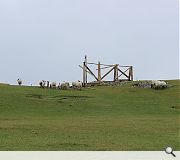 Sheep are likely to outnumber human visitors to the attraction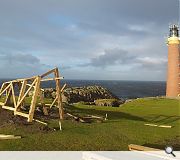 The challenging environment sits a million miles from a cosy lecture theatre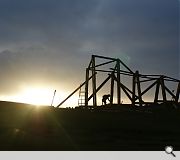 The Isle of Rona lies 22 miles away from the Isle of Lewis
Back to August 2013