BBC commissions first 3d visualisation of Glasgow's Bruce Plan
|
Send to friend
August 7 2013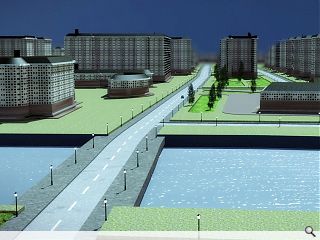 The BBC has published details of an upcoming documentary which is set to lift the lid on some of Britain's most megalomaniacal architectural schemes; including an insane bid to demolish Glasgow, an overweening scheme to route warships and cargo vessels between Edinburgh and Glasgow by canal and a crazy 10 mile long Victorian arcade in London.
Unsurprisingly none of these schemes were ever built but that hasn't stopped the BBC from commissioning creative studio Playdead and production company Timeline Films to raid the archives and build the next best thing – a series of 3d models of the egotistical pipedreams.
Amongst those schemes selected for inclusion is Glasgow Corporation's infamous 1945 Bruce Plan, a dystopian vision penned by the then city engineer, Robert Bruce.
Whilst the city centre was largely spared such ravages, thanks largely to an enfeebled post war economy, many inner city districts were less fortunate and give an inkling as to what it would be like to venture down the streets of an alternate Glasgow where the plan had been realised in full.
This would have seen the city centre dominated by serried ranks of uniform concrete tower blocks marooned in a wasteland of grass – a monotonous landscape punctuated only by the occasional civic building.
Commenting on the visualisations Playdead co-director Jonny Harris told Urban Realm: "We took all the original paper plans and then using the dimensions from that information we've created a 3d interpretation of what Glasgow would look like, including fly through's of the city to give an idea of how different it would have been.
"As part of this we took a shot of George Square and mimicked one of the buildings being demolished and then a new building being built in its place, to demonstrate just how drastic it was.
"As far as we're aware we're the first people ever to create a 3d visualisation of the Bruce Plan."
Dreaming the Impossible: Unbuilt Britain, is a three part series airing from 12 August at 21:00 on BBC4.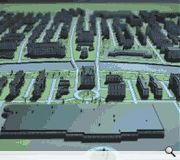 A post-Bruce Plan Glasgow isn't likely to have topped many peoples top holiday destinations
Back to August 2013