Ice Lab Architecture exhibition opens in Glasgow
July 26 2013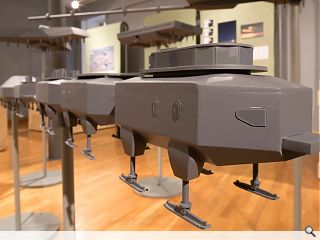 The first ever exhibition of Antarctic Architecture has opened its doors in Glasgow, offering a glimpse into the hardship and beauty of life at the bottom of our planet.
Commissioned by the British Council and curated by Arts Catalyst,
Ice Lab: New Architecture and Science in Antarctica
offers visitors a chance to take stock of recent innovations in architecture through five showpiece national research stations, each of which strives in its own way to make life more comfortable for the hundreds of scientists who call the South Pole home.
Urban Realm caught up with Hugh Broughton, director of Hugh Broughton Architects, who helped deliver the British Antarctic Survey's Halley VI Station at the launch to find out more.
Broughton said: "People think the modules are tiny, like cars, but they're actually the size of a standard terraced house and they're raised 4m to the underside of a module and 10m to the top."
These components sit atop their own set of ski legs, allowing the caterpillar-like structure (likened in turns to an AT AT Walker and a Thunderbirds craft) to be towed away from the dangers of collapsing ice shelves – a fate that has already befallen Halley's one to five.
"Each of these modules had to be broken down into kit form because it was unloaded from a ship onto sea ice which can fracture quite easily so we had to break it down into nine ton loads and then put it all back together again", explained Broughton. "I make it sound quite simple, but it was anything but. It took four years of 10 week summers to do it."
Ice Lab: New Architecture and Science in Antarctica, runs in The Lighthouse through to 5 Sept.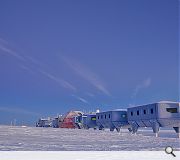 Broughton says the schemes patriotic colour scheme arrived purely by chance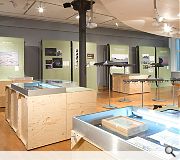 Four completed schemes and one speculative ice tunnelling concept form the meat of the exhibition
Back to July 2013