Amended Perth Theatre design submitted
July 16 2013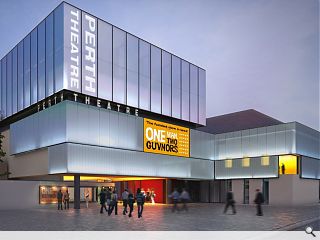 Richard Murphy Architects have submitted a revised planning application for the
redevelopment of Perth Theatre
after securing £11.5m of funding to restore and refurbish the B listed Edwardian Theatre and create a new frontage on Mill Street.
This will improve access and internal circulation at the historic venue, which will also play host to a new 250 capacity studio theatre space. A triple height foyer will connect these historic and new build elements as well as housing a bar, restaurant and box office facilities.
The new studio theatre will be located directly above the Mill Street entrance and will be clad in reflective metal and glass as the new civic face of the institution.
A number of back of house functions will also be incorporated over three floors of workshops and performance rooms to the east of the foyer.
The brick walls of the original theatre will be ensconced within an eroded drum of white render edged in stainless steel to provide a visible expression of the theatre from both the High Street and the foyer. Embedded within this feature will be new circulation routes.
Work on the scheme should be underway by summer 2014.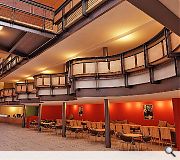 At least part of the original upper circle will be reinstated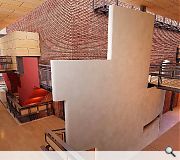 New circulation routes will be inserted around the existing Edwardian theatre
Back to July 2013