Tiree live-build boathouse completes
July 15 2013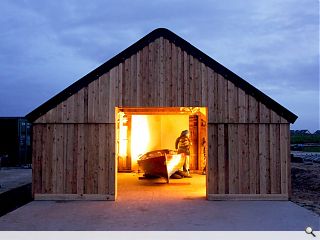 Tog Studio
has announced the completion of a live-build boathouse on the Isle of Tiree
following a mere seven day construction programme
.
It is the
second such project to be completed on the island
and was delivered by a team of 13 architecture and engineering students overseen by professionals.
Known as 'The Noust', a Viking term for a winter boat shelter, the facility was delivered on behalf of the Tiree Maritime Trust, a charity dedicated to the preservation of traditional boat building and preservation techniques.
Incorporating a ply box portal frame manufactured by MAKLab and prefabricated by the Gal Gael Trust, the entire plywood and timber structure had to be carefully manoeuvred into place by hand.
Micheal Holliday, Director, Tog Studio: "It was important that the project felt like a boathouse which was unique to the island. The primary design move to achieve this is the curved frame and ridge; externally this references the traditional Tiree black-top roof whilst internally the structure was imagined as an upturned boat."
An exhibition documenting the delivery of the build opens on 19 July at the Lighthouse, Glasgow. .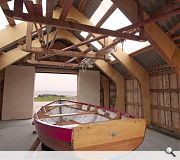 More than 10,000 scews had to be manually inserted by volunteers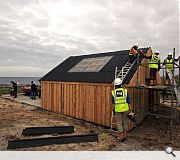 The structure is designed to be both lightweight and strong to withstand bracing Atlantic winds
Back to July 2013