University of Stirling commence student residence demolition
July 16 2013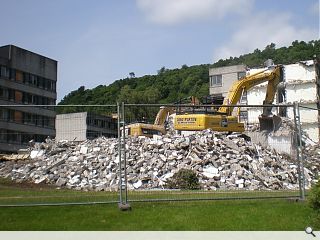 Demolition work has begun on the University of Stirling's Murray Hall to make way for the second phase of a £38m project to deliver new student housing, a conference venue and events space.
Valued at £12m the latest build, known as Beech Court, will provide BREEAM Excellent rated accommodation for 290 students and is scheduled for be completion in September 2014.
Delivered by Graham Construction and designed by Lewis and Hickey the new scheme is designed to better integrate with the landscaped grounds of the University as well as offering upgraded accommodation.
Karen Plouviez, director of estates and campus services at the University, said: "Murray Hall opened in 1971 and has been home for many thousands of students in the intervening years.
"On the one hand, its demolition signals the end of an era – and I'm sure many of our alumni will be sad to see it disappear. But, on the other hand, it signals the start of a new chapter in our history and there is a great sense of excitement at the University as the first phase of the project nears completion.
"The new accommodation being developed includes state of the art en-suite rooms arranged into flats for between five and 10 students, townhouses for nine students and flats for students with families.
"The design phase for the accommodation included a number of consultation events with students so the new accommodation reflects many of the features they cited as important – for instance, good natural light, plenty of storage, and modern and well-equipped social space."
Ultimately the full project will deliver 788 bedrooms at four locations by 2015, replacing 40 per cent of the University's residential accommodation in the process.
Phase one work is due for completion this September
.
Back to July 2013