Falkirk looks to turn heads with Kelpies construction
July 1 2013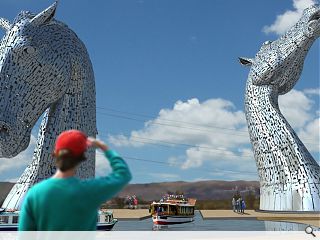 Falkirk is hoping to gain fresh economic horsepower this summer with the emergence of two giant equine heads which will soon loom over the town's skyline.
A 10 week construction programme to deliver
Andy Scott's twin sculptures
, part of Falkirk Council and Scottish Canals £43m Helix Project, is now underway.
Rising to 30m the pair will consume 6km and 600 tonnes of structural steel with more than 10,000 separate fixings applied to the 'skin' of the heads.
Needless to say this will result in the largest pair of horse sculptures in the world upon completion, with the ears alone measuring over 5m in height and the base swallowing an area of land equivalent to a public swimming pool.
Helix programme director, Mike King, said: "Over the next few months, people in the Falkirk area will begin to get a really strong impression of what we are producing at The Helix," he added.
"As The Kelpies begin to emerge from the ground and assume their distinctive shape, we believe the anticipation for our ground-breaking development will increase dramatically.
"What we also have currently is one of the largest gardening projects in the country with thousands of bulbs, shrubs and trees having been planted, all of which will really add to the colour and landscape of the Helix."
Back to July 2013