Dundee clear up begins following Hilltown demolition
July 2 2013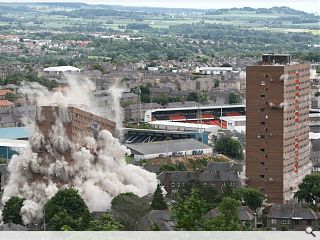 A massive 20 week clear-up exercise has got underway in debris to remove debris left behind from the weekend demolition of two high rise blocks of flats at Derby Street, Hilltown.
The 22 storey blocks, formerly the tallest buildings in the city, were left as nothing more than crumpled heaps following their controlled demolition by Safedem.
Both towers were brought down cleanly although some collateral damage affected St Martin's Episcopa Church after falling masonry struck the corner of the church hall, although a scaffold screen prevented any structural damage.
Safedem managing director William Sinclair said: "I am disappointed that we caused some minor damage to the rear fire escape of the church, as we set ourselves very high standards,"
"The minor damage will be repaired and Safedem are fully committed to do this in the quickest time period possible.
"We have worked with the church every step of the way throughout the project so far and we really appreciate their understanding and patience."
Further demolition work will soon commence on neighbouring properties at Russell Place as part of the
Hilltown Regeneration Framework
, a bid to reinstate the pre-1960s street pattern.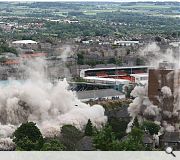 Images by Ron Cathro Photography
Back to July 2013