Perth identified as birthplace of the architectural iron industry
June 13 2013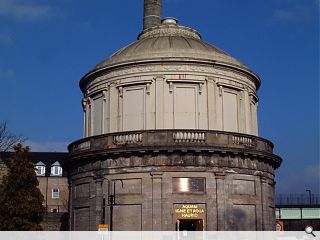 The important role played by Perth in the development of the architectural iron industry has been highlighted today by Historic Scotland at the first such conference of its kind on the subject; The Architectural Iron Industry in Scotland – A Historical Perspective.
Accounts to date had suggested that the industry arose in America in 1850 thanks to the work of architect James Bogardus, who proclaimed as much at the time.
Fresh research conducted by the heritage body has cast doubt on these claims however; after it was discovered that Bogardus had been an observant visitor to Perth Waterworks during a trip to Scotland that predated any of his own work by 15 years.
At the time Scotland was the world's leading manufacturer of prefabricated iron structures, a technique used to great effect in the delivery of the cast iron façade of the waterworks.
Dr David Mitchell, director of conservation at Historic Scotland said: "Scotland is world-famous for its architectural ironwork but the history of the industry is not particularly well appreciated here, so this is a great opportunity to promote the incredible contribution this country made in this field.
"Scotland was the world's leading manufacturer of pre-fabricated iron structures for a considerable time, and objects and structures are still being traced in India, South Africa, South America and Australia. We continue to discover pioneering Scots in this field and the design and construction of Perth Waterworks ahead of Bogardus in the United States is testament to that."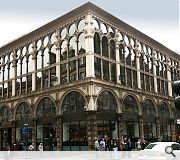 Glasgow's Ca'd'oro Building is another good example of the early use of cast iron architecture
Back to June 2013