Work commences on BRE Refurbished House at Ravenscraig
June 12 2013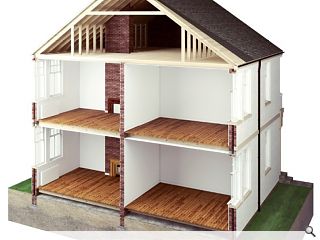 Work to deliver the latest prototype home at the BRE Innovation Park, Ravenscraig, has commenced on site with Cruden and BRE Scotland breaking ground on their Refurbished House.
One of 10 demonstration homes to be built in the park it will recreate a full scale 'four in a block' apartment dwelling which currently accounts for 265k homes in Scotland and a further 3m in England.
Unfortunately this layout is also one of the worst performing building types in terms of thermal and acoustic performance, creating a pressing need to develop retrofit techniques and technologies to bring them up to spec.
That is where the Refurbished House fits in, with each of its four compartments exhibiting differing approaches in terms of materials and technologies, differences which can be monitored over time in terms of performance data relating to energy efficiency and thermal comfort, indoor air quality, acoustic performance and cost.
Embodied energy in the materials used will also be considered with the findings serving to inform fabric upgrades to existing stock.
BRE Scotland Director David Kelly said 'Scotland has a high level of fuel poverty, with approximately 25% of homes spending more than 10% of their total income on energy bills. This is a shocking and unacceptable situation and one which we aim to change with the host of new knowledge this project will generate."
Back to June 2013